The Gods laugh when people make plans. In my minds eye I had visions of heading out in the soft twilight of an Arctic winter, stopping off at a Laavu, setting up the camera and capturing those wonderful Northern Lights arcing and swirling across the sky. Through the day we would head out in the pre dawn on snowshoe, or ski and travel for mile after mile. Perhaps we would be lucky and capture both sunrise and sunset before heading back for a few beers and a well deserved rest. It's isn't as if I am being too unrealistic with my dreams, I have actually been to Finnish Lapland before and managed to get at least one or two days without snow.
Well this time the Gods certainly laughed and gave us six days solid snow, wind and clag leaden grey skies. On the poor days we planned a bit of downhill skiing at Yllas only to find the Gondola shut most of the time due to high winds. Photographically speaking the constant snow and low cloud made it incredibly frustrating. Fortunately for outdoor fun which was the main reason for being there, not even the flu could stop us from having a great time as we sniffed, snivelled and dragged our aching limbs out into the forest, or onto the hill every day.
There are plenty of cross country ski trails and snowshoe trails that surround Yllas (pronounced "Ullas") most of which converge on huts, or small wooden shelters. These open fronted shelters were great places to stop, have a bite to eat and retreat from the elements for a few minutes.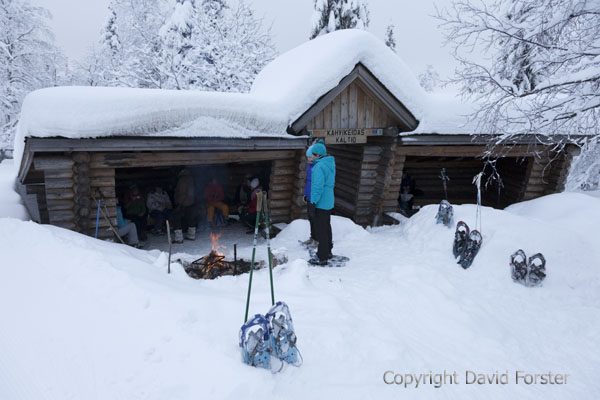 Gathering Around an Open Camp Fire Outside of the Kahvikeidas Laavu
Cooking sausages outside of the Kahvikeidas Laavu
Wildlife wise there was not much to see, although tracks in the snow suggested there was plenty about. Whenever we stopped for a bite to eat we were often surrounded by Siberian Jays who hung around in trees waiting for any crumbs on offer. Some were even brave enough to land on your hand to feed.
Siberian Jay Perisoreus infaustus
Siberian Jay Perisoreus infaustus beautiful birds up close
With over 300km of cross country ski trails, some of which are floodlit and are groomed regularly we were spoilt for choice. At times we felt a little over equipped with our rucksacs while people sped by in thin lycra with nothing more than a small waist bag containing a snack and a drink. At least I felt like that until one shivering skier turned up at the laavu fire and virtually threw himself on top of it. He really did look cold and I could not believe he had so little with him. I expected him to turn around and head back to Yllas, but once warmed he stiffly headed off deeper into the forest. With the shortest circuit in that direction being around 15k I can only assume he was going to rely on movement to keep warm.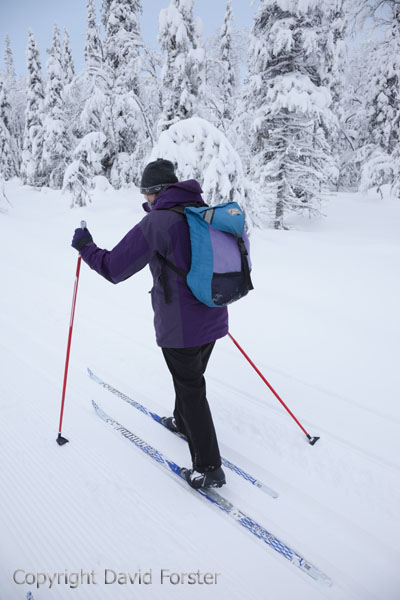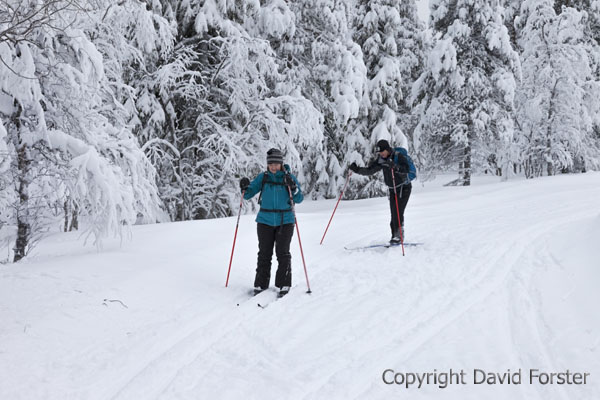 With around 330km of cross country ski trails there is plenty to do
While cross country ski trails allowed us easy access to the National Park, heading in on foot was not always so easy. Some of the snowshoe trails were supposed to be marked with blue poles but very often we found ourselves breaking trail in deep snow without any hint of a trail. Part of the problem was the continual snowfall coupled with the fact some trails set off as being well marked and then simply fizzled out. By the end of the week along with several other walkers we had blazed a series of trails which all converged at the Kahvikeltaan Laavu. Hard work but great fun.
Snow Shoes could be hired at several places in Yllas
Tiring but great fun exploring the forest
As for photographing the northern lights - with virtually continual snow and grey skies we never stood a chance.
Accommodation
We stayed in the Yllas Saaga Hotel.
Equipment
While we own our own mountaineering skis we do not have cross county skis or snowshoes so hired skis and snowshoes locally in Yllas.
Lift Passes
We only planned to have 3 days downhill skiing so simply organised these once we arrived rather than pre booking them. The Gondola was closed for two of the three days due to high winds and we were confined to the lower half of the mountain on those.
Maps
We used the 1:55 000 Yllas 2013 map. This was the only one that was available and cost 10 euros. Considering the area it covered and the poor paper quality it felt a bit of a rip off and was something other people we met complained about.