Meteor Jet WD 778 Knock Fell
Over the years I have come across the remains of a number of crashed aircraft, both here in the North Pennines and elsewhere in Yorkshire, the Lake District and Scotland. Sadly I have also witnessed the destruction first hand during my time in mountain rescue, but that is another story.
Lying among the screes, crags, peat bogs and gullies that make up the landscape bordering Upper Teesdale and the Eden Valley there are a surprisingly high number of aircraft wrecks. Some locations are well known and documented, others sadly have not been recorded and may now be lost from memory as those involved either in the incident itself, or in the aftermath have passed on.
Along and either side of the broad undulating ridge running from High Cup Nick to Cross Fell there are the remains of at least eight aircraft that have come to grief.
1. Wellington Mk1c - Dufton Fell
2. Hurricane - Great Rundale Tarn
3. Halifax Mk2 - Dun Fell
4. Spitfire - Great Dun Fell
5. Hudson - Cross Fell
6. Gipsy Moth - Cross Fell
7. Anson - Cross Fell
8. Gloster Meteor - Knock Fell
Several more lie on the slopes of Mickle Fell and the surrounding hills. Not all ended in the loss of life. For example the crew of the Wellington that crashed on Dufton Fell appear to have survived, as did the crew from the Anson on Cross Fell. Sadly the majority of crashes on these lonely windswept fells did end in tragedy.
One thing many of these incidents have in common is bad weather, something these hills seem to attract when the moist air from the Atlantic meets their western slopes. Here the moisture leaden air is forced upwards producing on average some 2048mm of rain each year. In winter when the cold air from the north, or east hits this moist air, heavy snowfalls occur with drifts metres deep, some of which last well into mid summer. Believe it or not, the area even has its very own named weather event known as the "Helm Wind" which races down the slopes of Cross Fell.
Anyone who has set foot these hills will be aware they can be a difficult navigational challenge in such conditions, but for aircrew flying blind the Pennines really are a truly dangerous place to stray into.
The first time I came across the wreckage of the Gloster Meteor (Serial no WD778), on Knock Fell I was part of a mountain rescue line search trying to locate two missing Pennine Way walkers last seen between Teesdale and Dufton. Unfortunately there was no time to stop let alone investigate the wreckage and I simply jotted down a rough grid reference intending to return when I had time. That was probably fifteen or more years ago and despite ending up in the vicinity several times on future searches, I never got around to visiting the site properly. As the years passed the exact location faded from memory, but several months ago my interest was again aroused when I found an old map with the location marked on it.
Parking in Dufton we had an enjoyable if rather hot and sweaty walk along the Pennine Way through Coatsike Farm and then on up to Knock Hush. The hot weather has left the moors bone dry and the usual bog hopping you normally associate with these hills was thankfully absent. Unfortunately the midges weren't and any stops for drinks, or food had to be taken when a breeze was blowing.
The original plan had simply been to use the GPS to take us to the grid refs I had written down all those years ago, but unfortunately the technology let us down (well at least the newly charged batteries did) and we had no choice but to use good old fashioned map and compass work to get us to the general area. A poor memory, a certain level of disorientation on my part and not being entirely sure if my grid reference was accurate meant there was no sign of the crash site. Instead of wandering aimlessly hoping to spot it we decided to resort to doing a line search. The first sweep missed it, but fortunately just as my companions were beginning to think I had them on a wild goose chase the wreckage was spotted on the second sweep about a hundred meters or so from my original grid ref.
Despite pieces of wreckage being quite large the crash site was not obvious from a distance
Engine components?
Wing
The story behind the crash is that while trying to land at Leeming air base in thick cloud the crew were instructed to switch to the Ground Control Approach frequency to direct them in. Unfortunately their radio failed and they aborted the landing and climbed away in order to try and sort out the problem. Eventually low on fuel and unable to fix their location they descended through the cloud, perhaps hoping to locate some visual clues. Unbeknown to them they were over some of the highest hills in northern England and they impacted the ground not far from the summit of Knock Fell at 20:45 hours on 24th March 1954. Five days later a local gamekeeper Alexander Mason from Burthwaite stumbled upon the wreckage, but sadly nothing could have been done for the crew. Pilot John David Briggs and Navigator/Radar Operator Derrick Walker had both been killed instantly. They were only 21 years old.
The wreckage itself appears to be in two distinct groups and despite suffering nearly sixty years worth of Pennine weather some parts appeared to be in surprisingly good condition. In fact some stainless steel sections of the engine look like they were new.
Some parts other than impact damage hardly show the passage of nearly sixty years
One of the things we did notice as we viewed the crash site was just how unlucky the crew had been. Had they been flying perhaps fifty feet higher they would probably have missed the hill altogether.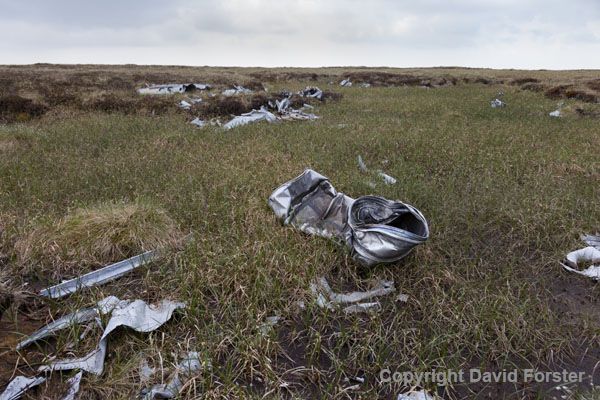 The area around the impact site
It has to be said I always have mixed emotions when visiting such sites, especially when lives have been lost. On one hand I feel like some morbid observer, but then again this is part of the history of these fells and the memory of these people should not be allowed to simply fade like the mists that drift across these moors. This is the sort of history you can see in the raw, appreciate and still be moved by, so if you are passing this lonely place, stop off for a few minutes contemplation and help keep the memory of these people alive.
I think we all felt a little subdued as we left the site and it took a conscious effort to relax a bit and enjoy the return walk. I mentioned we have had some great weather of late and despite the heat we still managed to find a big patch of snow to play on.
Even in June you can find a bit of snow
The ladies decided to have a bum slide or two but unguarded comments about how wide the tracks were by me, meant Graham (simply by association) and I had to walk ahead to avoid injury from trekking poles.
Fortunately we spotted a sheep that had been trapped in a flooded shake hole and my verbal misdemeanour was soon forgotten, or perhaps more accurately filed away, as we went into sheep rescue mode and dragged the poor thing out. It looked as if it had been in there for some considerable time because it had eaten all of the vegetation within reach. Despite being soaking wet and barely able to walk due to the weight of water in its fleece, it started eating hungrily and we left it happily devouring the hillside. Good deed done for the day we headed on our way to Dufton and a much anticipated pint in the pub.
Text and Images Copyright David Forster/www.bluestoneimages.com
Further Information
More about aircraft losses in the Pennines and elsewhere can be found here