Review - Mens Geo Soft Shell winter trousers
Mens Geo Soft Shell winter trousers (not waterproofs).
Manufacturer:
Regatta
Sizing:
Available in short, regular and long leg
Purchased from:
Gaynor Sports Ambleside
Price Paid:
£34.99 currently on offer at £24.95 at trekwear.co.uk
Used for:
Winter hill walking, photography, snowshoeing, downhill and cross-country skiing.
While looking for a new pair of winter trousers in a short leg length in Gaynor Sports, Ambleside the Regatta Geo Soft Shell Trousers caught my eye. Now I have to be honest here and say I would normally head straight for well-known mountain brands. Unfortunately over the past couple of years I have had some bad experiences with some brands and have been shocked at how poor the quality can be. These trousers lack the complex design of some and don't have crampon protection, ventilation zips and reinforced panels here and there, however all I wanted was a pair of simple trousers with an articulated knee that would do the job.
I have worn these trousers a lot over the past couple of months, both here in the UK as well as in temperatures as low as minus 15 in Lapland. In fact they have been worn on just about every occasion I have ventured out in the snow. In use the wind and water resistant outer material itself feels very stretchy and certainly has a durable feel to it. So far there is little evidence of wear in areas such as the knee, seat and where the rucsack contacts in the lumbar area.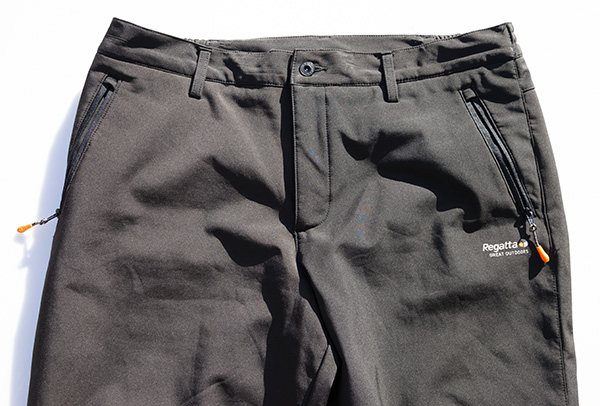 Mens Geo Soft Shell winter trousers
Comfort is good and the articulated knees, part elasticated waist and stretch fabric allow for plenty of movement. Activity wise, regardless of whether it was stomping around the Pennines searching for photographic inspiration, downhill skiing, cross-country skiing, or snow shoeing they have proved to be more than up to the task. When it comes to wearing them in snowy conditions I was also pleased to note that despite plenty of thigh deep floundering, lots of kneeling while photographing - and in Lapland, day upon day of continually falling snow, I never had a problem with snow sticking to them. Water resistance from new was good, but after a number of washes has reduced. That said it is important to recognise that these are not waterproofs and they will really only cope with light showers. These trousers incidentally do take quite a long time to dry out and getting them soaked on the hill will probably mean staying soaked. After washing all you have to do is turn them inside out to expose the fleece lining which helps speed up the drying process.
Lower leg detail.
Despite the lack of ventilation breathability was still adequate, although it has to be said there were a few occasions where moisture did build up making them feel a little clammy. In reality this was not a significant issue and really only occurred in warmer weather conditions while exercising at quite high levels such as when walking up steep slopes.
All in all I have found them a comfortable and functional pair of winter trousers at a very affordable price.
Verdict
4/5.